Can you believe it's already August?!
Like resolutions time in January, August can be a wonderful time to embrace new beginnings. As schedules shift to include the fall school schedules, sports and activities, it's an opportunity to decide what habits might need a change. Whether its moving to an earlier bedtime, adding in a daily exercise routine, or starting the day with a probiotic, the natural change in our schedules is a great time to make a shift!
The changes don't need to be big to make a huge impact. I had a boss once who used to always say "little hinges swing big doors". One tiny change could be just the thing. Several years ago I made the choice to start small and begin swapping just one toxic product in our home for something that was healthier. Young Living made this process so easy for us. I would find ways to make the new product work within our budget (often it would actually help us to save money). Before long, I realized that I was no longer dealing with daily headaches! The little shift had added up to a major health change for me.
Others have experienced similar changes - healthier hormones, energy levels, sleep, focus, emotions, body weight and more from choosing to make one small shift.
I pray that this August you make one new healthy shift, and that the effect is as miraculous as mine has been!
Read on for ideas for simple ways to make a shift!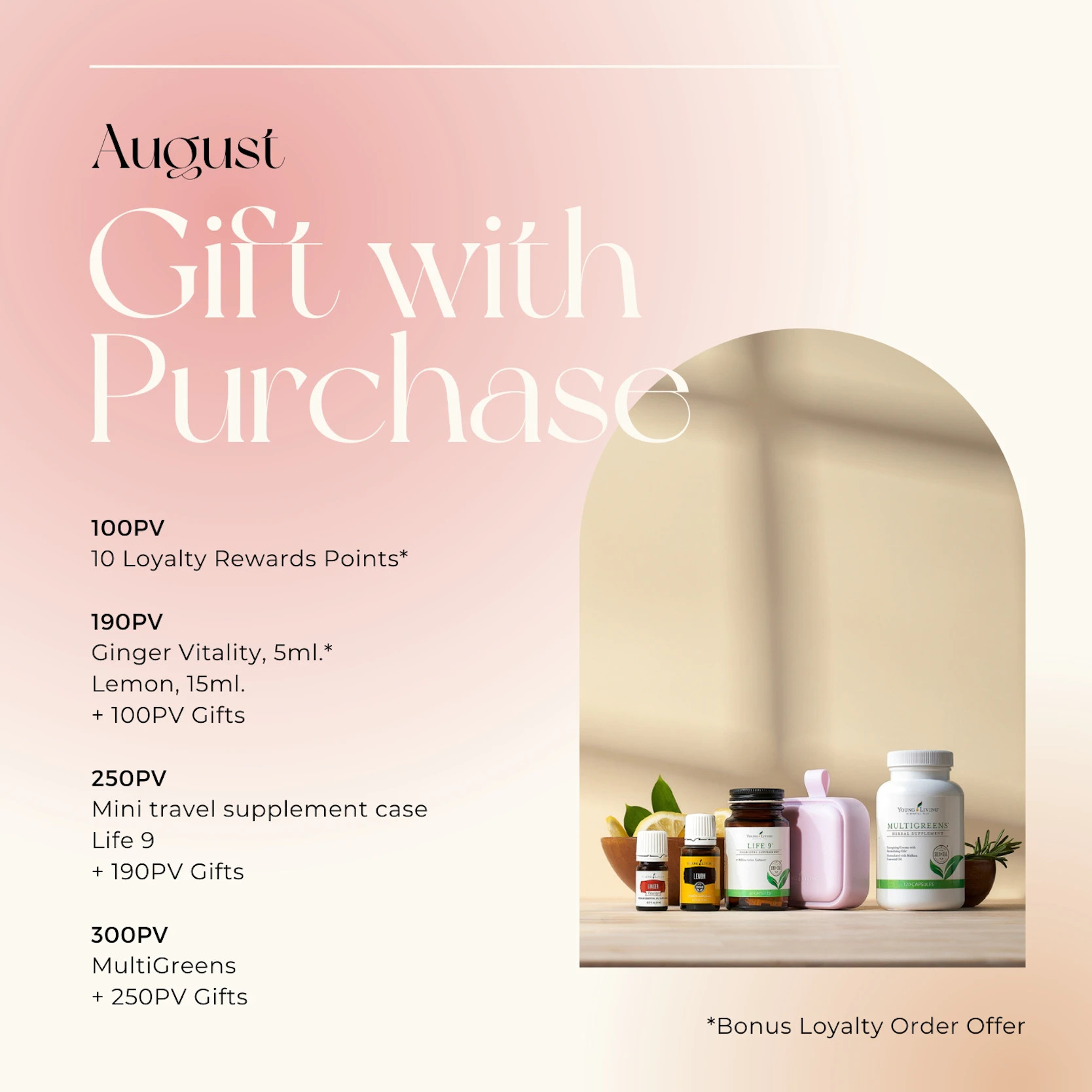 AUGUST GIFT WITH PURCHASE
We all know how important gut health is (it affects everything!!!), especially when it comes to our immune systems, and this month we're getting our favorite belly-loving supplements and oils for free!!! These favorites are great foundational staples for everyone - MultiGreens, Life 9 Probiotic, Lemon & Ginger oils, and more.
Here's how it works. You order the products you use all the time - household cleaning products, shampoo and bath gel, toothpaste and mouthwash, and all your favorite oils. Each time you hit a specific tier, a free gift is added to your order!! Win win!
Here's everything to look forward to with the August gift with purchase:
With an order of 300PV you will receive:
Retail value: $181.51
MultiGreens capsules, 120 ct.

Try MultiGreens capsules, a combination of invigorating greens such as spirulina, alfalfa sprouts, barley grass, bee pollen, eleuthero, Pacific kelp, and more to support overall health and well-being.

Life 9 supplement

Our Life 9 probiotic supplement is the perfect simple addition to your routine to optimize your digestive and immune-system health

Mini Travel Supplement Case

Make it even easier to remember your supplements with our mini travel supplement case. The case is divided into four small sections, so you can bring your essential supplements with you anywhere

Lemon essential oil, 15 mL

Diffuse Lemon essential oil's uplifting aroma to cleanse the air and set the tone for your gut-health goals.

Loyalty order: Ginger Vitality essential oil blend, 5 mL

Kick off your gut-health journey by adding Ginger Vitality oil to your water, tea, or your favorite beverage for a flavorful boost that may support the digestive system.*

Loyalty orders: 10 Loyalty Rewards points

Get 10 loyalty points to redeem for more back-to-school essentials when you spend 100+ PV on a loyalty order.
With a 250PV order you will receive:
Retail value: $121.65
Life 9 supplement
Mini travel supplement case
Lemon essential oil, 15 mL
Loyalty order: Ginger Vitality oil, 5 mL
Loyalty order: 10 Loyalty Rewards points
WIth a 190 PV order you will receive:
Retail value: $50.01
Lemon essential oil, 15 mL
Loyalty order: Ginger Vitality oil, 5 mL
Loyalty order: 10 Loyalty Rewards points
With a 100PV Loyalty Rewards order you will receive:
Retail value: $13.16
Loyalty Rewards order: 10 Loyalty Rewards points
If you're asking what should I order?! We have you covered!
Create a Loyalty Rewards order with some of our favorites for heading back to school, and join us for the Sweet Sleep Challenge! Grab these products on a Loyalty Rewards order, make your home (and yourself!) smell amazing…. and get MultiGreens, Life 9, a Mini Travel Case, Lemon, and Ginger Vitality FOR FREE plus 35 points (up to 75!!) to use as product credits!
Cedarwood essential oil
Peace & Calming essential oil blend
NingXia Red Combo pack (bottles for home, packets for school!)
Thieves Roll-On (for whole family immune support)
Super C Chewable (our favorite vitamin C!)
SniffleEase Roll-On (for happy noses with back to school)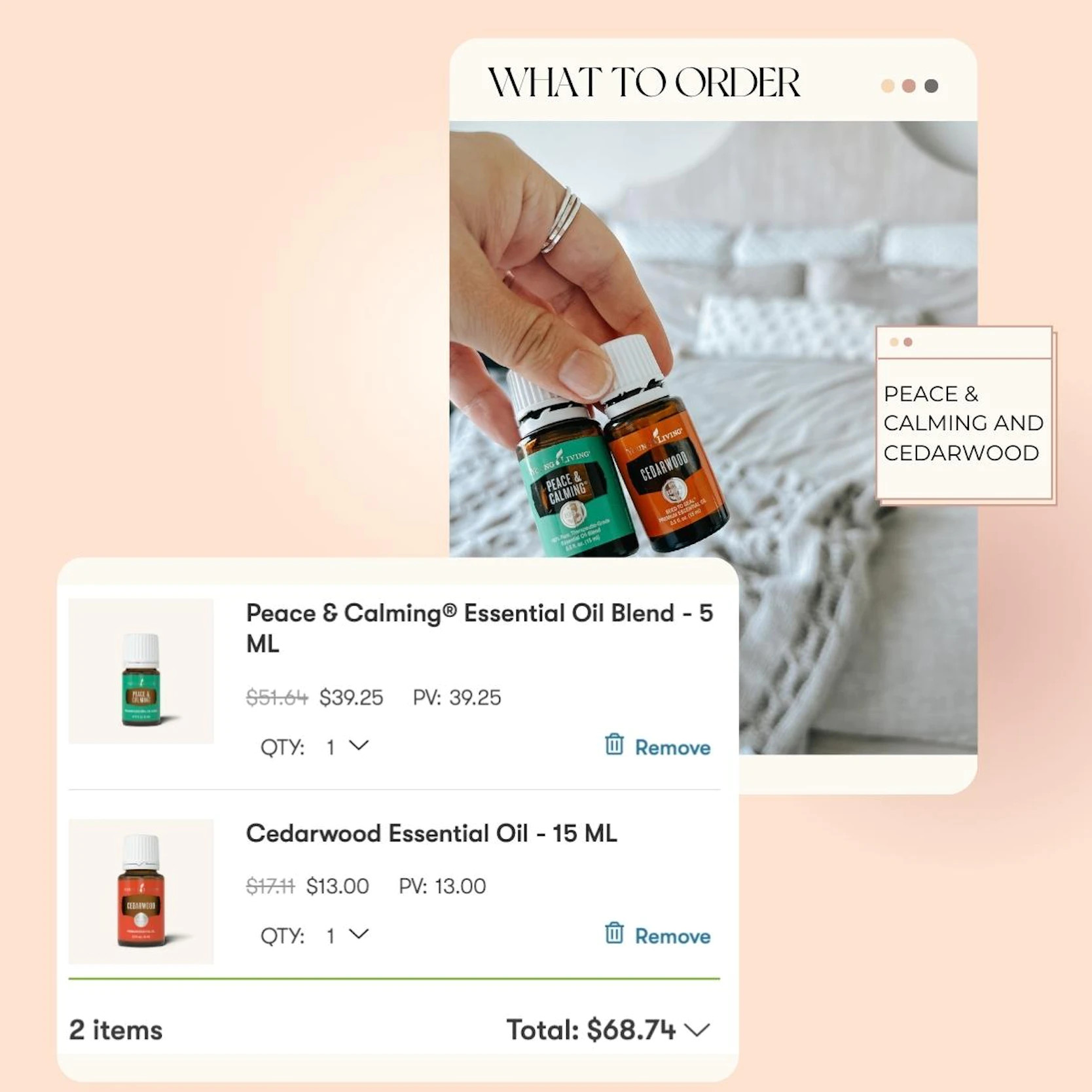 How are you sleeping?
Is it restful?
Do you toss and turn?
Do you wake up ready for the day?
Do you worry your way through the night?
Are you relying on sleep aids that leave you groggy and affect your health?
Are you ready to truly rest?
Sleep is so important for our health, but…
According to estimates, 50 million to 70 million people in the U.S. have ongoing sleep disorders.
Women are 40% more likely to have insomnia than men are.
40% of people with insomnia may have a diagnosable mental-health condition.
79.4% of adults who take prescription sleep medication experience a residual effect such as oversleeping, feeling groggy, or having a hard time concentrating the next day.
94.8% of adults lose at least an hour of sleep to pain in a given week.
57.8% of middle schoolers and 72.7% of high school students get less than the recommended amount of sleep for their age.
30.8% of parents and guardians say their school-age children are not getting enough sleep with attention-deficit/hyperactivity disorder (ADHD) have mild to severe sleeping problems.
We would love to guide you on a journey of restorative sleep throughout the month of August so you can work, handle back to school schedules, prepare for the holidays, and do all the things you dream of doing from a rested state.
Then, in September, we'll be guiding you through a process of concentrated nourishment so that you can fill that rested body with energy.
What do you say? Would you like to join us? It's so easy.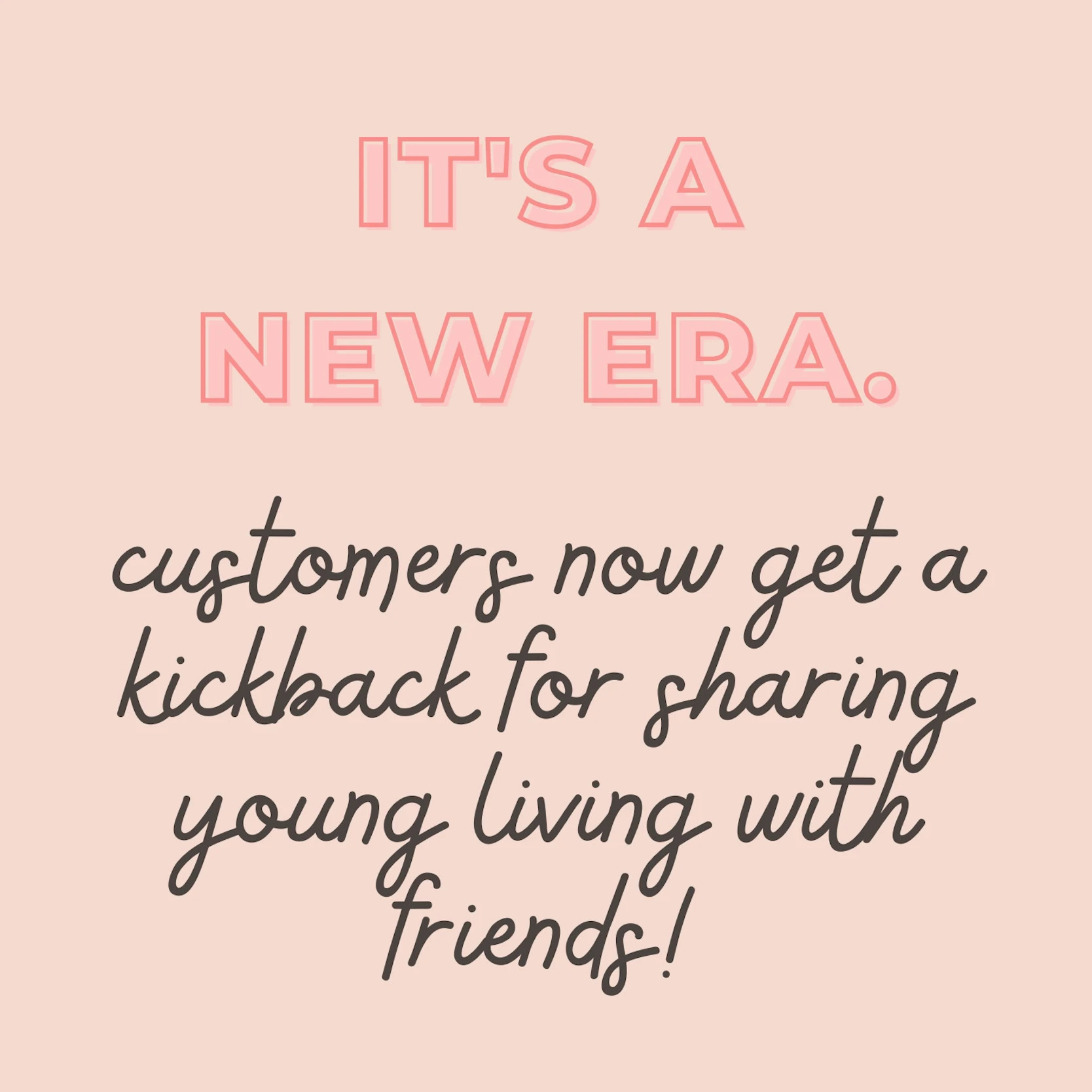 Did you know that you can share your love of Young Living with your friends and family and get 25% back in product credits?! Or you could upgrade to a Brand Partner, make commissions, and win some fun prizes!!
If you're a Customer, be sure to share your favorite products with your friends and family using your Young Living personal referral link. When they use the link to place a 50+ PV (point value) first-time order, have them use the code SHAREYL at checkout to get 10 percent off. Plus, you'll earn 25 percent of their order's PV in product credits for use in your future orders!
If you're a Brand Partner (or buy a Business Essentials Kit for $1 to become one!!), share your faves using your Young Living personal referral link or wishlist link. Remember to give your new Customer or Brand Partner enrollee the SHAREYL code to use at checkout when they place a 50+ PV first-time order so they can save 10 percent. As a Brand Partner, you'll earn 50 percent in Fast Start Bonuses on all PV purchases your new Customer or Brand Partner enrollee makes in their first month.
HOW TO FIND YOUR PERSONAL REFERRAL LINK
Log into your YL account.
Click the menu.
Click 'SHAREYL'
Copy/paste that referral link and share it with your friends/family!
MAKE A SHIFT KITS
Say hello to the easy button for making a shift to green solutions for your home and health – the Make a Shift Kits! These easy-to-use kits come packed with a unique selection of the most popular products for replacing harsh chemicals, freshening your home, or supporting daily wellness routines.
Choose from one of the three kit options (spoiler alert: you cannot go wrong!). These are the perfect kits for sharing your love of Young Living! They are truly the perfect shift towards a more natural lifestyle!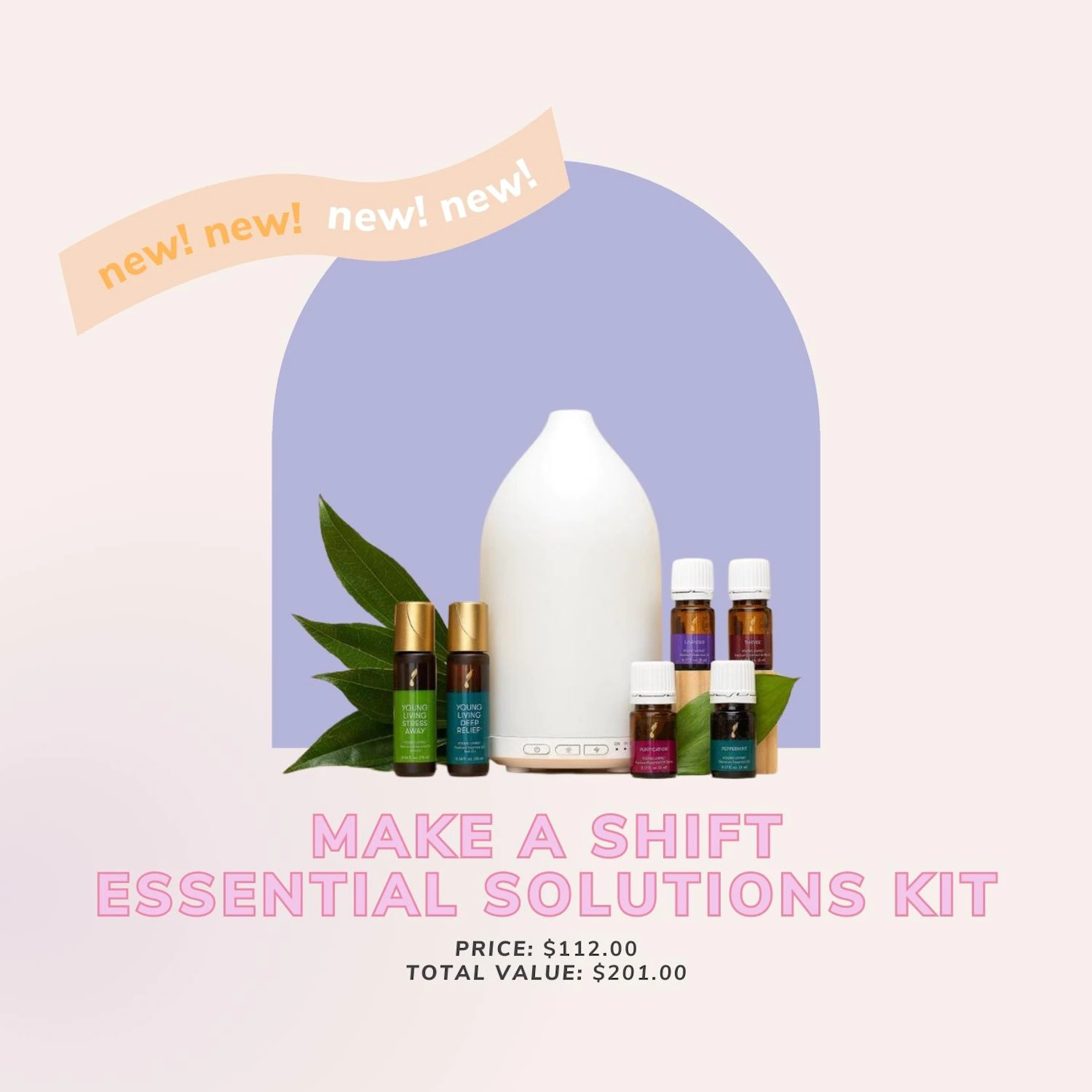 MAKE A SHIFT: ESSENTIAL SOLUTIONS KIT
Item 44357 I Wholesale: $112 I Retail: $112 ($201.58 value!) I PV: 112
This curated collection includes some of the most popular and most versatile essential oils around! You can use these oils for cleaning, skincare and self-care, creating a natural wellness cabinet, and much more.
Thieves essential oil blend, 5 ml
Purification essential oil blend, 5 ml
Lavender essential oil, 5 ml
Peppermint essential oil, 5 ml
Deep Relief Roll-On, 10 ml
Stress Away Roll-On, 10 ml
FreshStart Diffuser (exclusive to this kit!)
Product insert with simple tips for using everything in the kit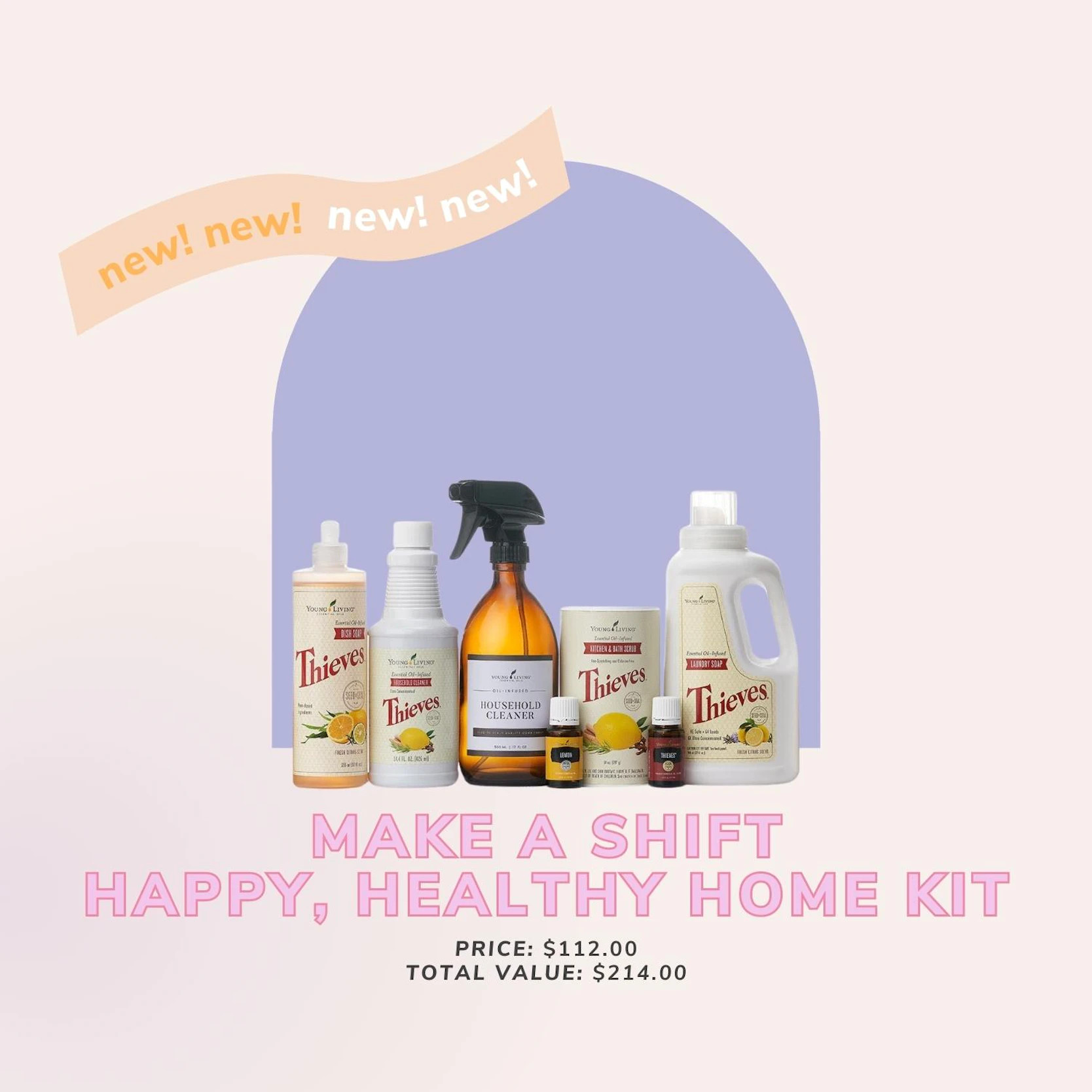 MAKE A SHIFT: HAPPY, HEALTHY HOME KIT
Item 44656 I Wholesale: $112 I Retail: 112 ( $214.14 value!) I PV: 112
Green cleaning just got even easier. This curated collection features some of our most loved and most-used Thieves products! Plus two purifying essential oils and a glass spray bottle – everything you need to keep your home fresh and clean without harsh chemicals.
Thieves essential oil blend, 15 mL
Lemon essential oil , 15 mL
Thieves Household Cleaner 14.4 oz.
Amber Glass Spray Bottle
Thieves Laundry Soap
Thieves Kitchen & Bath Scrub
Thieves Dish Soap, 12 oz.